Grade 6 learners from 14 schools across different provinces converged at Gariep Dam Enviro-Quiz two day conference organised by Forever Resorts, Sasol, DESTEA, Department of Education and Windmill Casino.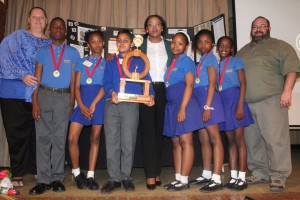 Enviro-Quiz began 25 years ago, with the sole purpose of educating learners about issues pertaining the environment. The theme for this year was "Want more Waste more".
The competition amongst leaners was on waste management regarding recycling and the composition of an Environmental song. Learners presented their recycled products and sang their composed Environmental songs.
Harmony Primary school were the overall winners for both waste management and composition of the songs.